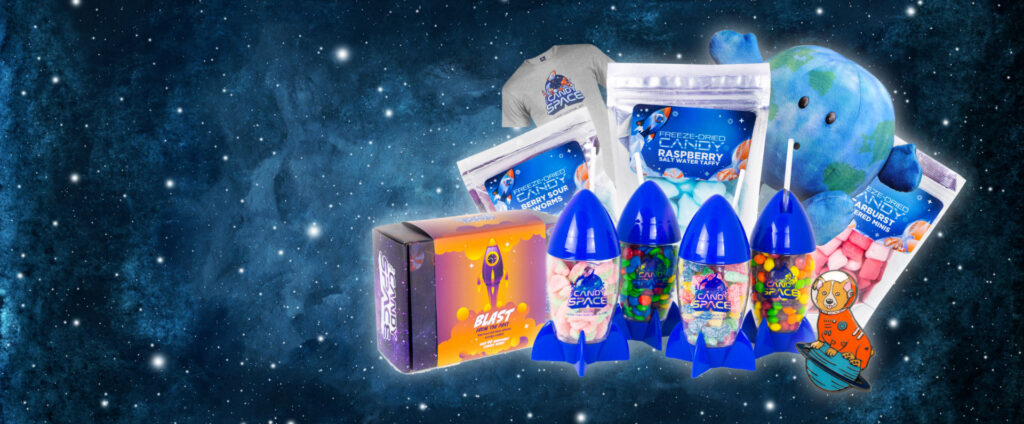 Freeze-Dried Candy as a Business
We know that not only is freeze-dried candy delicious, but it's also a great product for any store to add to its inventory and introduce customers to! Check out our top tips for how to sell freeze-dried candy then blast off to our online freeze-dried candy shop to taste some for yourself! Own a business and want to join the ranks of the Kennedy Space Center and the International Spy Museum? Check out our wholesale freeze-dried candy!
What is Freeze-Dried Candy?
If freeze-dried candy is new to you then check out our freeze-dried candy FAQs to answer most of your questions. For a quick definition, freeze-dried candy is regular candy that has had its moisture removed by first freezing it and then placing the candy into a strong vacuum which sublimates the ice into vapor. Just like what would happen in space!
Why Sell Freeze-Dried Candy?
Freeze-dried candy has exploded in popularity thanks to the almighty internet. If you have ever eaten freeze-dried anything then you'll understand how the chewy/crunchy combination is perfect for enhancing the textures and tastes of candy. 
As soon as influencers such as @spicyycam got their hands on these delicious treats, such as our Peach Rings of Saturn, freeze-dried candy's popularity has taken off like a rocket!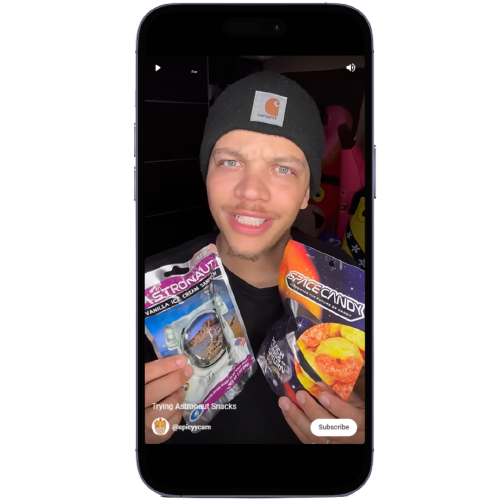 With this increase in popularity comes a jump in those wanting to get in on the craze. While there are thousands of individuals with freeze-driers in their kitchens selling homemade batches (and doing really well for themselves!) it is a tough business that comes with lots of things to consider before diving in.
What is the Freeze-Dried Candy Market Like?
There are two very different sides to the freeze-dried candy market.
The vast majority of freeze-dried candy is sold by home cooks who have their own machines and produce small batches of freeze-dried versions of popular candy brands (think Skittles or Milk Duds).
These candies are often crunchy and delicious but pricy as entrepreneurs try to make a profit on regular candy purchased at retail prices. While some can be great, achieving full sublimation, storing the product properly, and producing consistently tasty treats can be difficult in a cottage business.
The other, rapidly growing side of the market is the professional freeze-dried candy makers.
With the benefit of professional kitchens and full-time candy-makers, businesses like us at The Candy Space are able to produce original, consistently delicious freeze-dried candies that no one else is making. While we do freeze-dry popular candies, our pride, and joy are our own original out-of-this-world freeze-dried treats.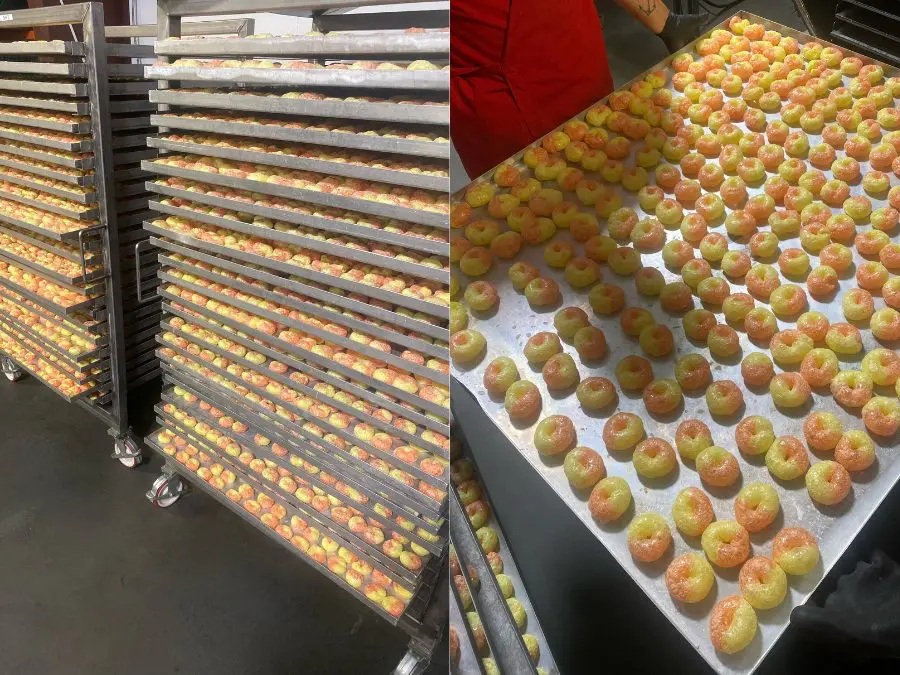 How Can You Sell Freeze-Dried Candy?
With the breakdown of the market above, the two main options for selling freeze-dried candy follow suit.
1. DIY
Create and sell freeze-dried candy right from your home. 
Benefits – You can start today! Just go out and buy a machine, some freeze-dried candy (for comparison) some regular candy and get cooking! 
Disadvantages – Freeze-drying machines start at around $2,400 and go up to $5,000 so the initial investment isn't cheap. A lot of states have laws against selling food products made at home (due to health and safety, quality control, etc) so ensuring you are in compliance is going to require a lot of research and/or legal assistance. The competition on places like Etsy is growing every day along with the popularity of the product so yours needs to stand out in originality and quality.
2. Purchase Wholesale
If you are an existing business that wants to try out selling freeze-dried candy then purchasing wholesale is the way to go.
Benefits – While minimum order limits do apply, purchasing wholesale is a smaller investment (and much smaller risk) than creating your own professional setup. If your customers love it then re-stock in just a few days. If not, then you can stop ordering and move on. No used machine to sell, no messes to clean up. You will also have the support of the company you are purchasing from to learn the best ways to market their product.
Disadvantages – To purchase wholesale freeze-dried candy and sell successfully you need to be an established business with a great customer base who would love the product (think kids, teenagers and young adults with sweet tooths). If this is you, check out our wholesale freeze-dried candy page to get started.
What Things Should You Consider Before Selling Freeze-Dried Candy?
For individuals:
Am I ready for the time, money, and space (area not interstellar) commitment and risk?

Have I checked my county and state cottage food laws?

What is going to be unique about my product?

Can I consistently produce a safe-to-eat and high-quality product?
For business:
Is freeze-dried candy right for my target audience?

Which freeze-dried candy wholesaler should I choose?

Which freeze-dried products are right for my store?
Where Can You Sell Freeze-Dried Candy?
For individuals:
Online, through your own website or marketplaces like Etsy.

Farmers markets

Pop-ups at cafes or even candy stores
For businesses:
Online on your own website

In person at your store
Sell Delicious Professionally-Made Wholesale Freeze-Dried Candy
If you're a business owner deciding whether selling freeze-dried candy is right for you then head over to our wholesale freeze-dried candy page to gather more information and contact our wholesale team.
Ready to start your homemade freeze-dried candy business? Check out our blog on how to make your own freeze-dried candy.