Interested in selling the highest-quality, best-priced, leading-brand freeze-dried candy on the planet?
Join us in helping candy lovers everywhere experience the future of candy!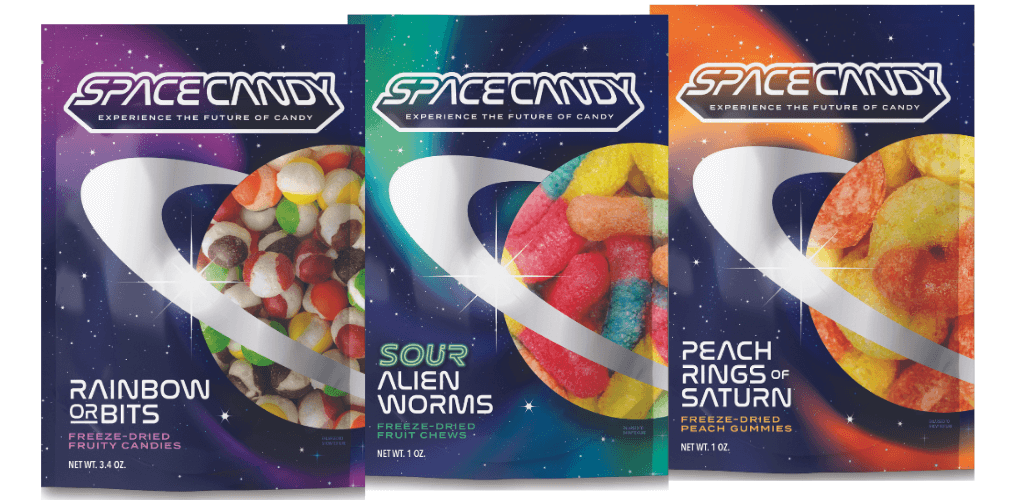 Have your customers eat like ASTRONAUTS and enjoy their favorite candies and treats in a whole new way! Our freeze-drying process preserves and enhances the flavor while providing an entirely new texture and culinary experience! Want to know more? Check our our freeze-dried candy FAQs!
Our wholesale freeze-dried candy comes in out-of-this-world retail packets. If you're ready to purchase the best wholesale freeze-dried candy in the galaxy, contact mission control below with our secure form or email questions to [email protected].
Bulk freeze-dried candy available now:
Rainbow Orbits (1.7oz and 3.4oz packaging)
Sour Alien Worms
Peach Rings of Saturn
Looking to purchase freeze-dried candy before selling or ask a general candy question?
BUY FREEZE-DRIED CANDY CONTACT US
What people are saying about our wholesale freeze-dried candy
"We have had lots of demand for freeze dried candy and Space Candy is the solution.  Our customers love the product and the packaging really pops.  We can't keep it on our shelves!  Great product and excellent service from Chad and the gang at Space Candy!" – Justin Wells, Candy Tyme
"The freeze-dried candy was an unexpected but instant hit in our museum shop. Kids and adults gravitate toward this product. Thumbs up!" – Jelle Rijnhout, Space Expo, Netherlands
Order Our Wholesale Freeze-Dried Candy